How Google Data Studio is Reshaping the PPC Software Market

While PPC marketers have more ad networks than ever to choose from, Google remains the dominant force in the industry. Google is the only company that can change the course of the PPC industry with a single new product or feature.
We see Data Studio as one of those industry shifting products.
Google Analytics was one of those products too. It provides a way to monitor web traffic and results, but the reporting functionality isn't great. Getting data to lots of clients, even on just a monthly basis, remains cumbersome for agencies only using Google Analytics.
The biggest PPC software companies in history—Marin, Kenshoo, and Acquisio— were able to grow rapidly in the early 2010's with reporting products as part of their core offerings.
After recognizing how heavily agencies relied on third-party software for reporting at scale, Google began working on solutions and launched Data Studio out of beta in 2018. The goal was to improve on the reporting workflows offered in Google Analytics. Data Studio empowers marketers with easy URL sharing, refreshable reporting dashboards, and professional visualization tools. Finally, agencies could send professional reports without needing third-party tools.
Data Studio is the second major signal to PPC software companies to carefully consider the types of products they built.
The other major signal was a commitment from Google to push campaign settings focused on giving more control to Google's optimization algorithms. Until just the last few years, Google's automation options were typically considered inflexible and less effective than third-party solutions to solve specific workflow and optimization challenges.
But that sentiment started shifting in the late 2010's, analysts began turning to the ad network tools for optimization tasks more than ever. Google has more data than any third-party tool will ever have and marketers know it. Many analysts report great results using native ad network optimization tools.
These two signals indicate Google is showing a commitment to helping agencies in the areas of reporting and automated campaign optimizations. This encroaches on many of the traditional value propositions that PPC software companies have leaned on through the years.
The ripple effects into the PPC software industry of Google's new automation features have been turned into tidal waves by Data Studio.
Google's presence is reshaping every aspect of building a PPC software company from sales conversations, to product roadmaps and investor pitches.
Data Studio Makes it Hard for PPC Software to Differentiate as a Reporting Solution
It's never been harder to sell a PPC agency on a reporting solution.
"Why wouldn't I just use Data Studio?" is a thought in the back of almost every PPC marketers mind these days.
And for most organizations, using Data Studio is completely free. That's really hard to compete with considering Data Studio already offers thousands of data connectors through their plug-ins and the list grows everyday.
If you decide to build a reporting solution from scratch today you are deciding to directly compete with Google. This means you'll probably need to raise a bunch of venture capital money. Unfortunately….
Data Studio Makes it Even Harder for PPC Software Companies to Get Venture Capital Money
Offering reporting solutions was a big part of the story PPC software companies told to venture capitalists in the 2010's when trying to raise money.
But when a behemoth like Google begins to enter a market, venture capitalists start to get nervous. Capital began to flow away from PPC software companies as Google offered more competing products and services through the last decade.
The VC appetite for PPC software has fallen off a cliff after highs in the mid 2010's.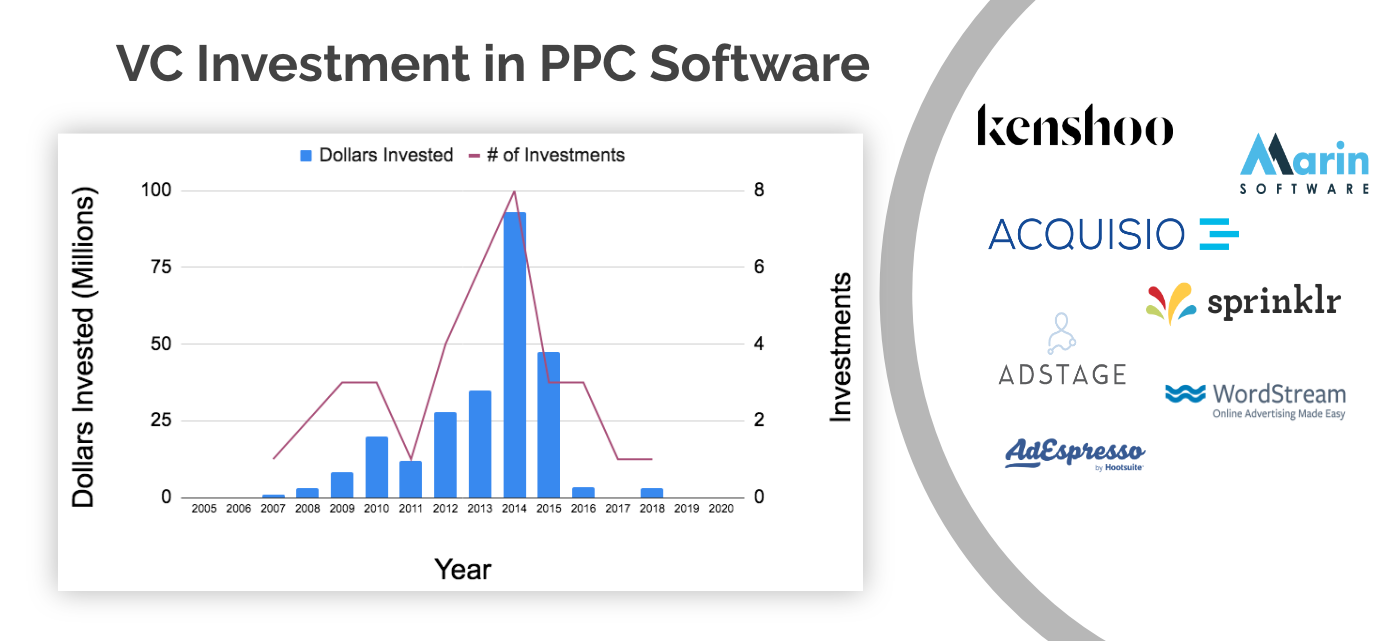 (Source: Crunchbase)
Another way VC's evaluate a market is to look at public companies in the space to estimate the biggest possible outcomes for an investment.
The only company focused on PPC software to ever go public is Marin Software. This is Marin's stock price performance since they went public in 2013: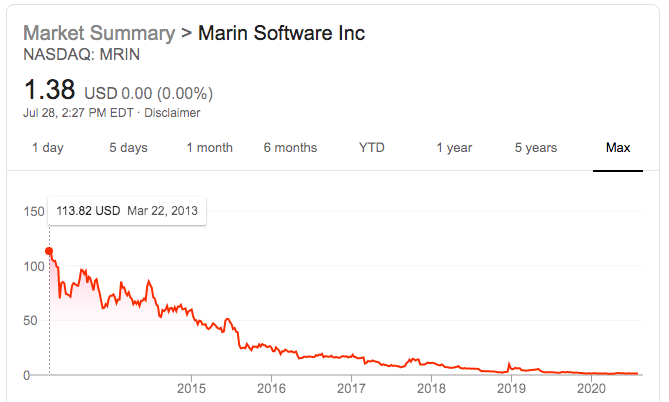 VCs don't want to see a market cap of $10M for one of the biggest companies in the space. This is a major red flag for almost any institutional investor and has lead to a lot less money being put into PPC software focused companies.
Lack of VC Appetite for PPC Software Means Fewer Companies in the Space
When VC's lose enthusiasm for a type of company two things happen:
1. Founders are less likely to start those types of companies.


2. Companies that previously were successful at raising venture capital in the space are unable to raise follow-on rounds and look to be acquired.
Both of these scenarios lead to a reduction in the amount of companies serving the market. In this industry, there are fewer PPC software companies than you would expect given the continued growth of digital marketing throughout the 2010's.
The MarTech Landscape continues to explode, but options designed specifically for PPC professionals have been static for a while because of headwinds created by Google.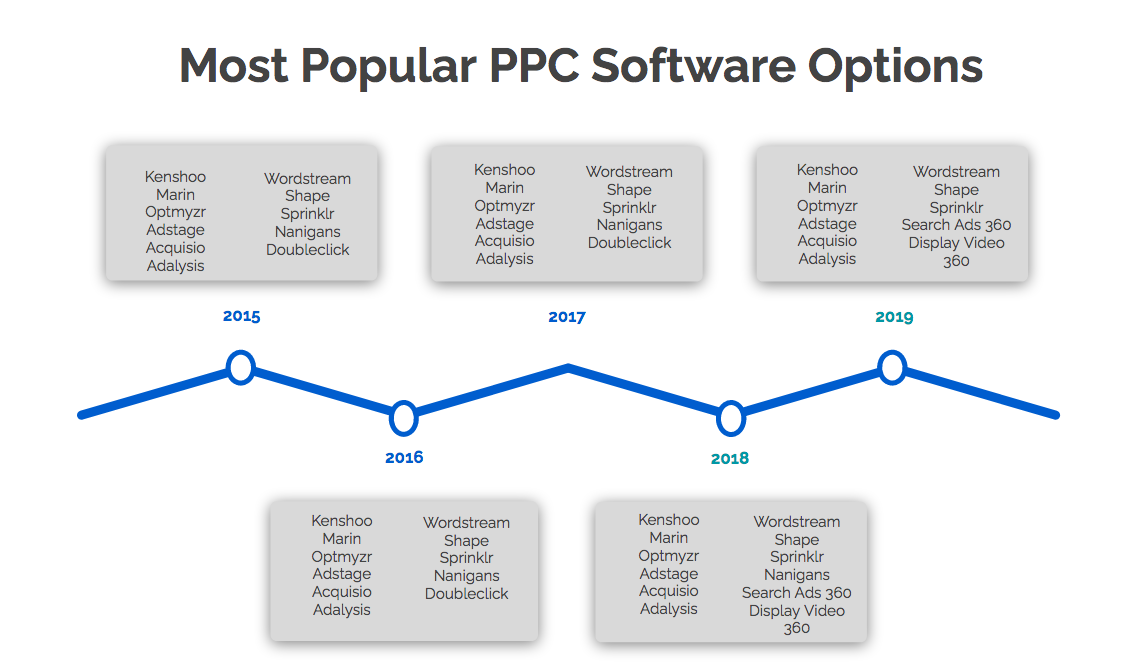 We haven't seen any major new players explode onto the scene in the last few years backed by large amounts of VC cash.
For the companies that remain in the scene, it's more important than ever to scrutinize the types of products they offer and how those products differentiate from Google's free solutions.
Independent PPC Software Companies Will Focus on Problems Google Can't or Doesn't Want to Solve
Google is doing an increasingly good job solving optimization and reporting problems for agencies. But for many marketers, Google is only part of their overall strategy. Often marketers need to deploy solutions across many channels.
Third-party PPC software is a great way to deploy optimizations to Google and non-Google ad networks.
There are also problems that Google doesn't want to solve. An example of this is providing increased budget control over campaigns. In many cases, PPC professionals have been burned by Google's algorithms ramping up spend too quickly or in a seemingly uncontrolled manner.
We use this example because as an independent PPC software company, the challenge of PPC budgeting across channels has been the problem we have been devoted to solving for the last 5 years. We have taken this approach because we feel that budgeting is a problem that the ad networks are unlikely to solve in a way that satisfies a majority of PPC marketers.
Instead of taking on reporting as the core problem we solve, we are looking to build PPC reporting solutions into Shape that plug-in and work seamlessly with Data Studio. We see other ad technology solutions taking this approach as well.
PPC Software Companies are Finding Ways to Work Within the Google Data Studio Ecosystem
The quick adoption across the market has driven demand for PPC software companies to provide ways for customers to easily transfer data over to Data Studio. Examples: Adalysis, Optymzr, and Shape.
Data Studio is becoming the de facto reporting dashboard for many PPC agencies.
This is a welcome change for most independent PPC software companies who can now focus on offering an "Export to Data Studio" option with custom templates instead of trying to provide complex reporting solutions on top of the features that truly differentiate our products.
PPC Software Companies Are Now Designing Data Warehouse Products to Support Data Studio Driven Workflows
Data Studio is unbelievably powerful, but not perfect. For agencies managing big accounts and campaigns, Data Studio may run very slowly. If teams of analysts are in Data Studio for hours a day then the time spent waiting for a report to load can add up.
We've learned that performance can be greatly improved by having reports pull data from a data warehouse designed specifically for PPC and built on top of Google's BigQuery technology. Utilizing a custom designed BigQuery warehouse, reports load much faster because the data is constantly being updated, stored, and normalized. Instead of making many API calls to multiple ad networks, all the data is in the data warehouse right when you need it.
The same concept works for Data Studio. By creating an intelligent advertising data infrastructure on the back of BigQuery, agencies can improve the reliability and speed of Data Studio. PPC software companies are in a great place to assist agencies making this transition to their own data warehouse.
We have developed a product specifically for the purpose of making it as easy as possible to get PPC data into a managed data warehouse. One of the core functions the product is now used for after launch: being a data hub for agencies to power Data Studio reports with.
It's clear to us that Data Studio will be a dominant force in PPC reporting going forward.
Looking Ahead to the 2020's in the PPC Software Market
We expect Google to continue to put effort into improving Data Studio and for market share to increase over the coming years. Data Studio improvements and Google's optimization features will likely continue to escalate the trends we saw through the 2010's and into the 2020's in the PPC software industry.
Google's presence has made venture capital almost impossible to raise for any company with a PPC software focus. This will continue to lead to fewer entrants into the space and reduce the number of existing companies who have focused on reporting.
The independent PPC software companies pushing forward into the 2020's are continually looking for ways to solve problems with their software that Google either can't solve or doesn't want to solve.
Google Data Studio is another major signal to PPC companies that we shouldn't be looking for ways to build competing reporting products. Instead, we should be finding innovative ways to enhance and improve the usability of the Google tech stack for agencies.
Learn more about how advertising data infrastructures work:
Reporting connectors Shape offers: