Shape ADI:

An Advertising Data Infrastructure for the Modern Digital Agency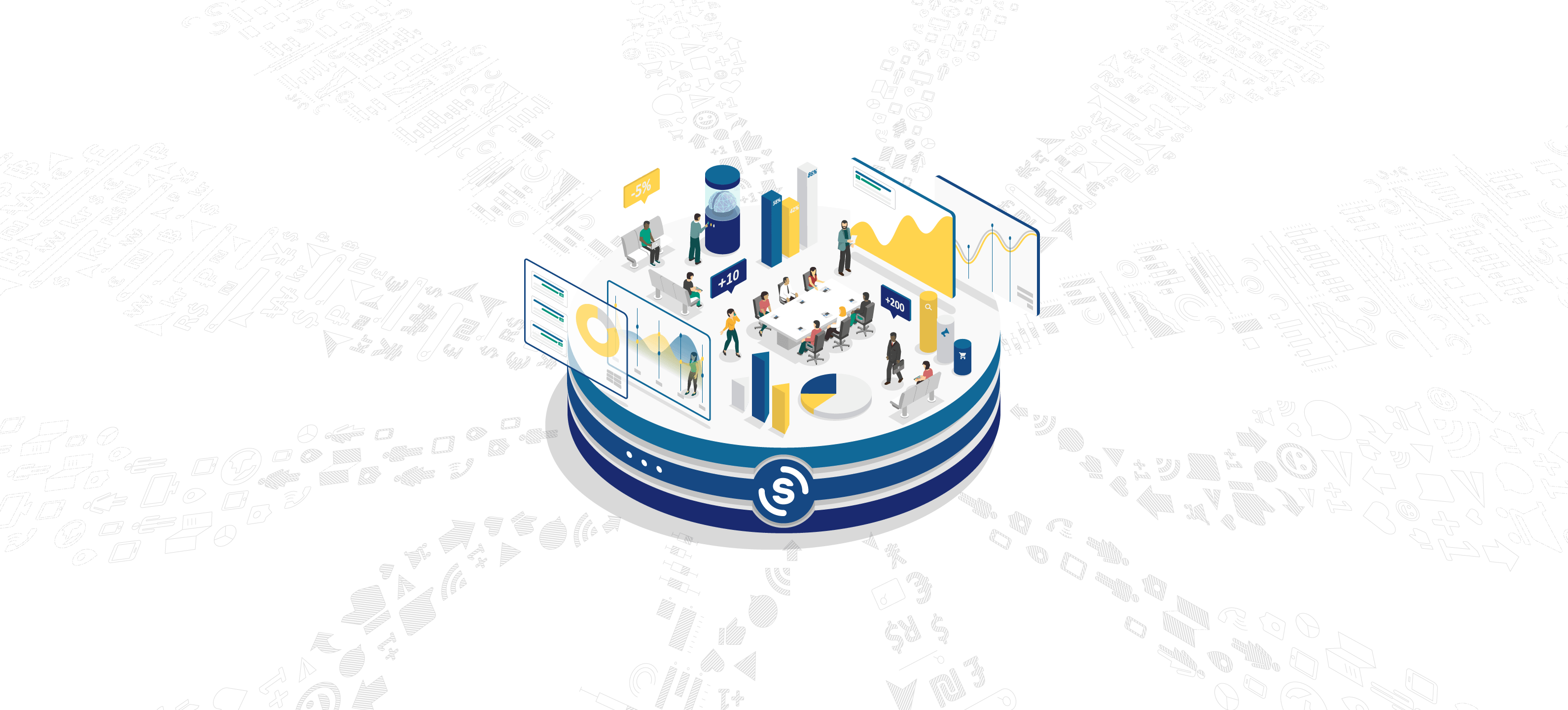 For the last 20 years, agencies have focused on delivering PPC marketing services to their clients.
Today, more strain than ever is placed on agencies' services-based business models, due to shrinking margins on PPC spend, ad platforms designing products to appeal directly to end advertisers, and increased competition.
Agencies are trying to meet increasing client demands and drive results in a more complicated digital advertising landscape with fewer resources.
Despite the challenges, some agencies are still growing rapidly. These agencies are thriving because they changed the way they think about executing PPC work for clients.
Instead of centering their business on delivering PPC marketing services, they are driving better performance by delivering custom PPC marketing technology to their clients.
There will always be a service and human component to the client-agency relationship. But, agencies of the future will operate more similarly to technology companies than the services-driven model of the past.
Digital marketing teams at leading agencies are beginning to be structured more like the product, engineering, and support teams at software companies. These teams are working with client stakeholders who increasingly have titles including Data Scientist or VP of Analytics.
How Technology-Forward Agencies Create True Competitive Advantages
When technology is at the forefront of their business, an agency can drive better results for clients and retain happier employees.
This approach empowers operational teams at agencies to cut manual workflows. It gives support teams more time to focus on unique strategic performance improvements and develop healthier relationships with clients. Likewise, product teams at technology-focused agencies are churning out custom solutions faster. These solutions then feed the sales and marketing teams with truly innovative products to promote.
Clients of technology-forward agencies enjoy the benefits of working with a great agency account management team while also benefiting from custom solutions they can't get from the other agency down the street.
The winners and losers in the PPC agency world will emerge quickly as the industry navigates the shift from a service-centric to a technology-centric model. Agencies who gain a true competitive advantage will build custom technology solutions fueled by their clients' unique data sets.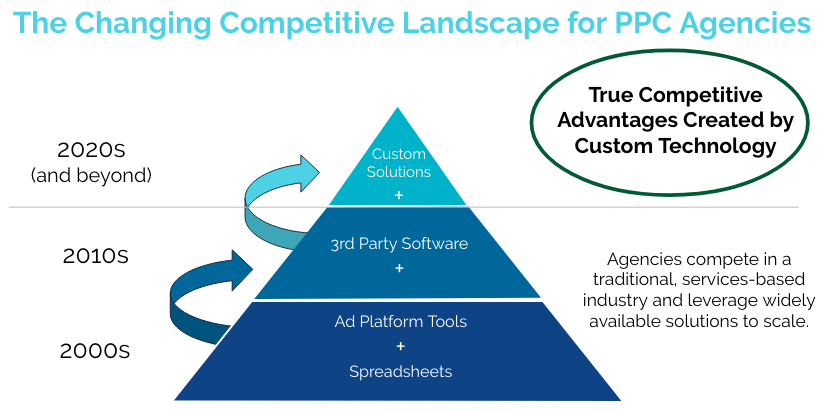 That is not to say that there aren't many challenges that come with creating custom PPC solutions. Most problems center around data management. Building technology on top of multiple, constantly changing ad network APIs takes expertise and ongoing engineering resources. Technical resources are limited in most organizations. This is especially true for agency teams that have been optimized for decades to provide services not build technology.
How Agencies are Building Custom Solutions Today
Leading agencies are overcoming a lack of technical expertise by leveraging partners with experience building PPC technology. The technical partner is able to create solutions to the specifications set by the agency's unique workflows and practices.
As a technical partner for multiple agency customers over the last few years, we've worked alongside digital advertisers and product teams to build custom tools. It's shown us there is a fundamental shift in the way PPC work can be done. Seeing the benefits to these organizations from the inside has inspired us to figure out how to help more agencies build the custom solutions they've always wanted.
Introducing the Shape ADI
The Shape Advertising Data Infrastructure (ADI) is a result of our experience with these projects combined with the lessons we've learned building our own PPC management platform. The ADI is a data management product suite made up of a two-way API and managed data warehouse with connectors to reporting tools used at agencies every day.
With the ADI as a data management foundation, agencies can build reliable, custom solutions with fewer (or no) engineers in less time.
What Agencies Have Built with the ADI
The development team at G5 built a "cross-channel spend analyzer tool" utilizing the ADI. As a result, they've driven conversion and cost-per-click improvements for their clients while winning new accounts after demoing the technology to prospects.

The ADI helped award-winning PPC agency, Push Group, build their own 'Advertising Death Star.' Employees love the optimization and performance software so much that it's used as a recruiting tool for potential new hires.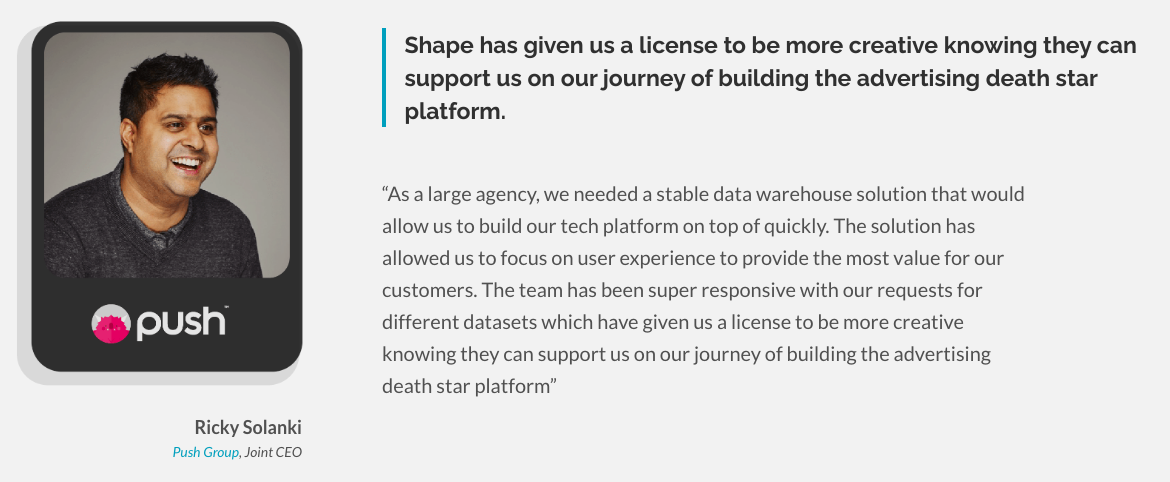 These companies found that employing the Shape ADI was much more cost-effective and reliable compared to hiring engineers to design, code, and maintain custom solutions from scratch.
Building the future of digital advertising won't be easy. But, the future is clear. The winners and losers of the next generation will be decided by which PPC agencies fully embrace the shift from services to technology and what agencies don't.
Get Started with the Shape ADI Today - Free Campaign Level Access!
We want more agencies to see the benefits of building custom solutions for themselves. To help make the first step easier, we have made campaign-level warehousing and API access free.
This means engineers can make API calls in only a few clicks and marketers can launch custom reports right from the Shape ADI in minutes.
A Provider and a Partner - We Are Here to Help
We want to be a partner versus just a technology provider along the way. Leverage our years of domain expertise to build your perfect PPC technology solution.
All ADI customers can connect directly with our development team as part of our built-in consulting services that come included. Don't hesitate to schedule a free consultation with our engineering team today before diving in.
Get Started or Schedule a Call
ADI Resources:
Reporting Connectors: