New Automation Overlays Show When CruiseControl and AutoPilot Will Adjust Campaigns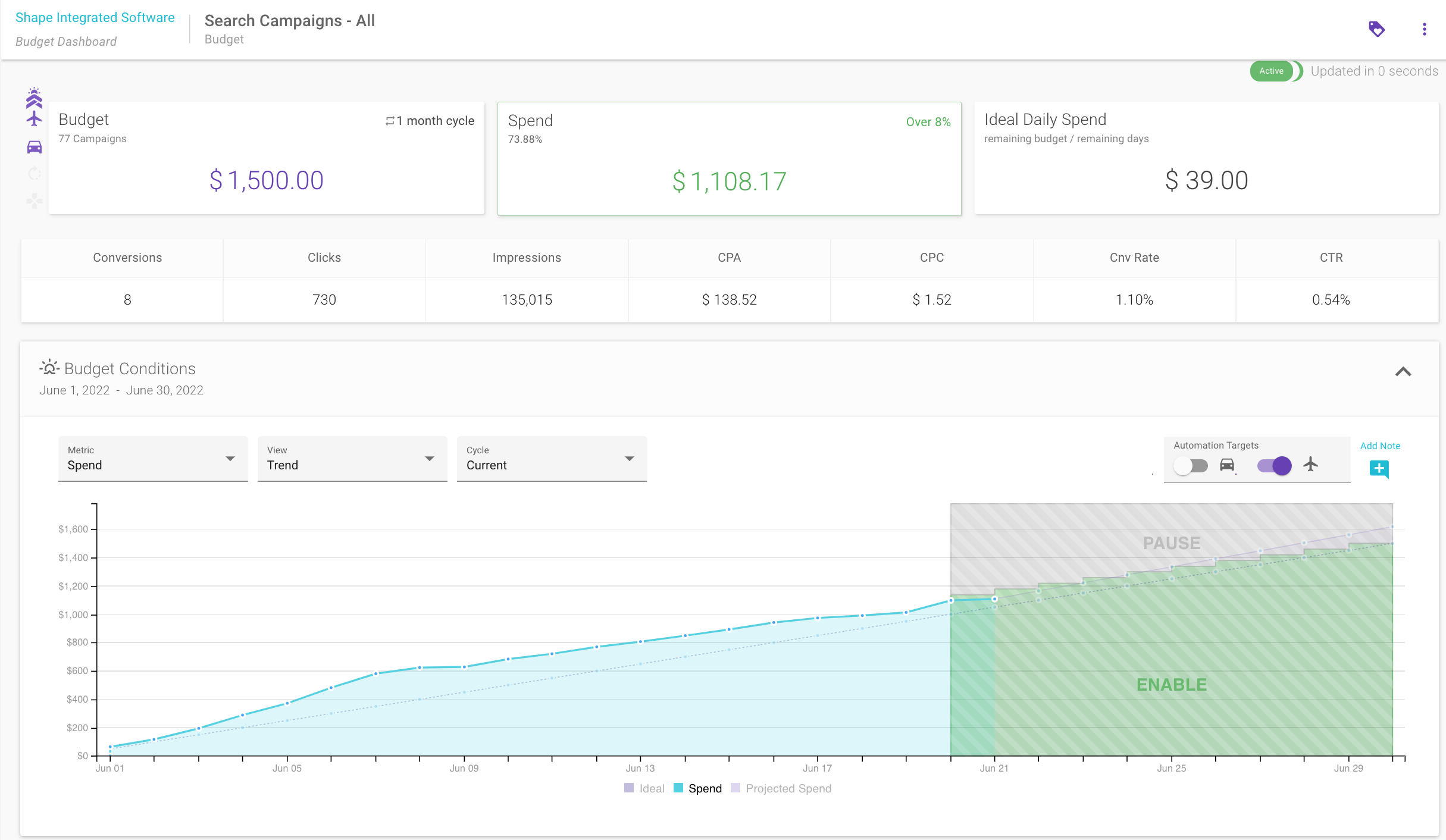 Shape's CruiseControl and AutoPilot automation tools provide advertisers the ability to easily pace ad spend and protect against overspend at scale.
To provide more transparency into the changes these automation tools are making, we've aupdated our Budget Conditions graph. The graph now shows how CruiseControl and AutoPilot are adjusting campaigns on any given day with visual overlays.
Automation overlays can be toggled on or off via the Budget Conditions graph on the Budget View page.

Toggle the AutoPilot overlay on and you'll be shown the spend levels where campaigns will remain enabled and when they will be paused. The visual overlay for each AutoPilot mode (Pause Only, Pause/Enable, and Daily) will show slightly different information.
For example, if you have AutoPilot Pause Only enabled, the graph will show that when you hit a certain spend level, campaigns will pause and not reactivate.

However, if you have AutoPilot Daily enabled, Shape will show a step-like graph indicating the ideal daily spend campaigns should achieve each day. Once that amount is spent, Shape will deactivate the campaigns until the following day to keep costs on pace.

Activating the CruiseControl toggle will show you where the target spend is for a given day versus where Shape estimates the amount your campaigns will actually achieve. If the spend estimate is well below the CruiseControl target this may help explain why your daily budgets are set to their CruiseControl Max (or vice versa in the opposite situation).

See the overlays in action on any Budget where you have AutoPilot or CruiseControl enabled.