How Executive Leadership Teams Benefit from a Shape ADI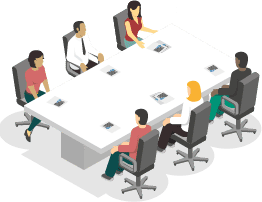 Whether your business runs PPC campaigns in-house or manages them on behalf of other companies, as an executive team, you want to ensure that your high-level performance, spend, and product goals are achieved.
You depend on your PPC team to be focused on strategy and metrics, but still funnel up important insights such as: are performance goals being met, is budget being properly allocated, and are employees doing their jobs effectively. Likewise, if you have engineering resources devoted to building PPC solutions or products then you want to ensure developers are building as efficiently and cost-effectively as possible.
Shape Advertising Data Infrastructure (ADI) makes delivering both PPC results and products/solutions easier, faster, and more profitable. All your company's cross-channel advertising data is aggregated, stored, and made accessible to engineering, PPC, and executive team members alike. Shape eliminates the need for complex API integrations or data warehouse builds. This means your PPC team can analyze, report, and optimize faster, engineers can cut launch dates by months (or years), and you save your company precious time and resources.
What is an Advertising Data Infrastructure (ADI)?
The Shape ADI unifies all your advertising data in one place. Shape's one-stop Advertising Data Infrastructure combines a two-way API that aggregates data across all major PPC ad networks, a fully-managed warehouse to store all your data, and public connectors to send data to other software tools.
Within hours of activating a Shape ADI (which takes 7 steps and less than 15 minutes), your company has access to current and historical PPC spend and performance data across seven ad networks.

Shape fully manages, maintains, and upgrades API integrations with each ad platform and scales your PPC data warehouse infrastructure as your data needs grow. This means your teams can begin analyzing and reporting (or prototyping, testing, and coding) against thousands of data points the day you launch your ADI.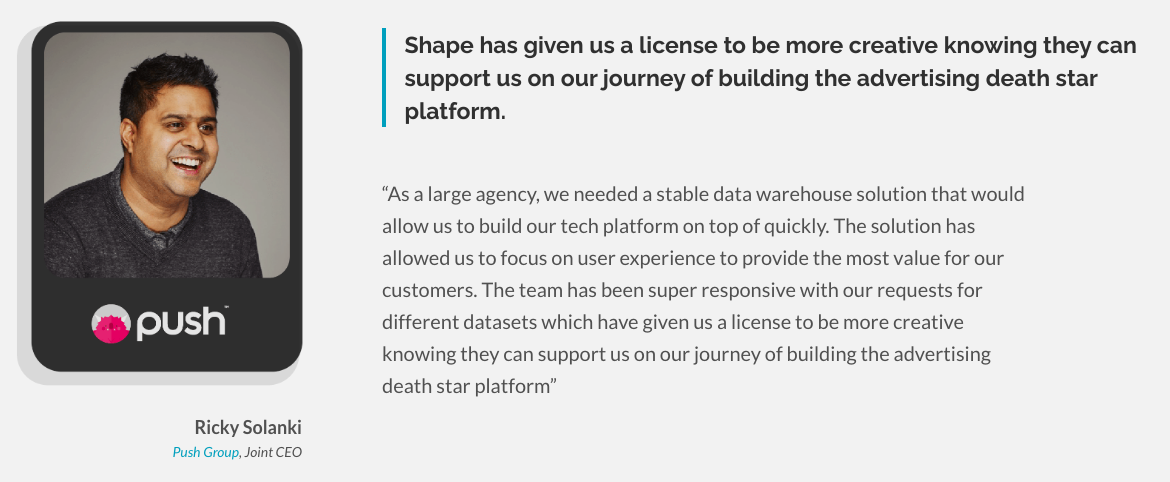 Implementing a Shape ADI simplifies and accelerates access to your company's digital advertising data so that your teams can focus on delivering innovative PPC software and outstanding results.
How Does ADI Reduce Workload for Executives?
1. Improve Efficiency and Retainment of PPC Advertising Employees
Running highly effective and profitable PPC campaigns, especially across multiple ad accounts, requires a lot of data, analysis, and strategic thinking from digital advertisers. When digital advertisers don't have automated tools to aggregate all that data then they must default to the time-consuming process of manually downloading and combining it all. Not only is this tedious, mind-numbing work, but manual reporting can also lead to errors and/or narrow data sets since it's all collected by hand.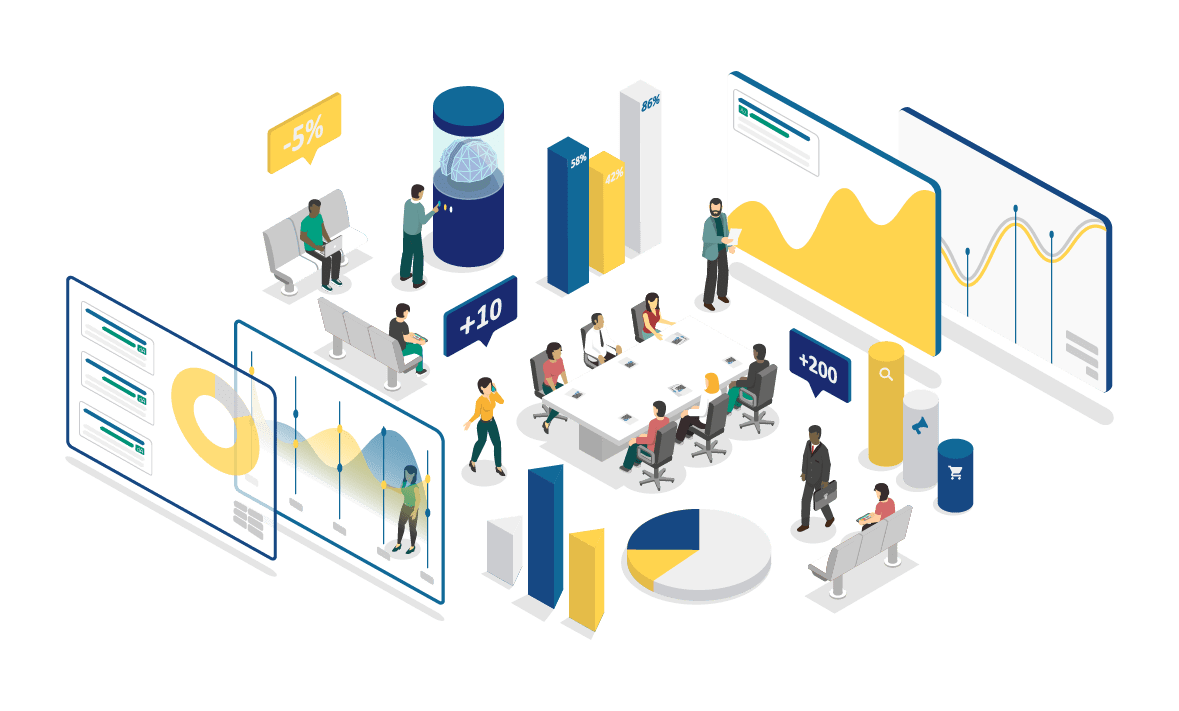 The Shape ADI gives PPC advertisers back valuable time to analyze data and create innovative strategies by eliminating the need for cross-channel PPC data collection. A company's or an agency's current and historical PPC data is available across seven ad networks and is automatically refreshed daily (or more frequently as needed). Digital advertisers can access their data via Google BigQuery, Google Sheets, Google Data Studio, or many third-party BI tools in minutes. Instead of focusing time on tedious data collection, digital advertisers can uncover deep campaign insights and launch innovative PPC strategies faster with a Shape ADI.
2. Launch PPC Products and Solutions Faster and More Profitably
We can't say it enough: PPC data is foundational to building any digital advertising software solution. Before your team writes a single line of code for a reporting solution, an auditing tool, or an optimization platform, your product and engineering teams will need to determine the best way to collect and store PPC data. It can take months and thousands of dollars to integrate with each ad platform individually and build your own data warehouse.

The Shape ADI gives a head start to companies developing PPC solutions by allowing them to skip building and maintaining API integrations and data warehouse infrastructure. Your engineering team can access cross-channel PPC data and use our Forge to help prototype solutions using near real-time metrics. By cutting out the data infrastructure build (and the ongoing API and data warehouse maintenance), teams can launch market-ready products and solutions in weeks or months not years.
3. Keep In the Know with Automated Executive Summary Reports
As an executive team, you have to have a pulse on how your company is performing against its financial targets, how PPC departments are executing against their goals, whether stakeholders and/or clients are happy, and so much more. Information needs to be reported up to executives fast with clear insight into how it's impacting the company's bottom line. Lags in data from one department can cascade to other departments depending on how interconnected deliverables are (example: end-of-month PPC spend reconciliation > Accounting).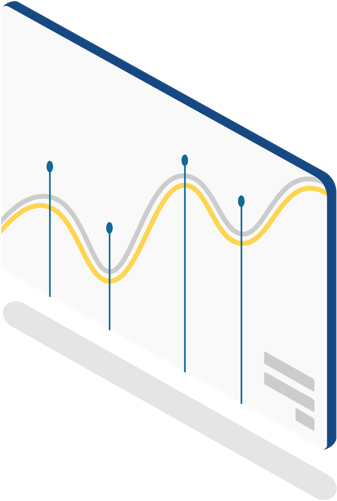 Automating PPC reporting is one of the top ways companies use the ADI already. Are you an agency that needs to show growth and forecasts for Google, Microsoft, and Facebook ad spend by quarter? Connect the Shape ADI to Data Studio within minutes. Wondering about if your PPC team is overspending clients' PPC budget targets, or right on track? Shape's custom client and budget groupings are available in our ADI. This makes segmenting reports by internal identifiers (client name, tags) just as easy as by platform fields (network, channel, ad account). Since PPC data is updated daily, Agency-Level Performance Reports can provide an up-to-date picture of your digital advertising team's performance.
Bonus: Need more inspiration on building an Executive Summary? Check out our partner NinjaCat's Executive Summary report example.
Optimize Your Company's Advertising Data with a Shape ADI
Have all your company's PPC data at your fingertips with Shape's Advertising Data Infrastructure. Give your departments access to robust cross-channel PPC data, a two-way API, and a powerful data warehouse.
Not sold yet? We've made campaign-level warehousing and API access free. See the Shape ADI in action with your company's live data.
Interested in learning more about what companies like yours have built with a Shape ADI? Don't hesitate to schedule a free consultation with our team before diving in.
Get Started or Schedule a Call
Learn more about how advertising data infrastructures work:
Reporting connectors Shape offers: