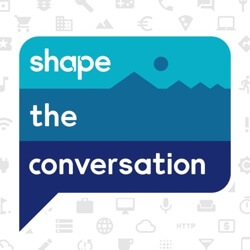 Shape The Conversation
Candid conversations from the team at Shape.io about entrepreneurship, building a SaaS startup, and all things digital advertising.
About the Podcast
Great things happen when you start shaping conversations around you instead of just listening.
Shape the Conversation is a marketing and business podcast hosted by Shape.io team members Jon Davis and Nicole Mears. Jon and Nicole were paid advertisers who left their agency jobs to build software for digital advertising teams. Building a successful ad tech platform hasn't been easy. Davis and Mears share the lessons they've learned with a goal of encouraging listeners to make the leap in their own lives from consumers to contributors.
Episodes include interviews with leading local entrepreneurs in Bend, OR, product development, marketing, management, and more. Whether you're mulling the idea of starting your own businesses, interested in the future of pay-per-click advertising, or just really love to hear two marketers argue, this podcast will leave you with insights you can utilize throughout your week to start shaping your own conversations.
"As a podcast addict, I can attest that this is an awesome listen for any aspiring entrepreneur. Whether you're thinking about starting a new business, wondering if it's right for you, have already started your business--you can learn a ton from this podcast.
They have found the right balance between a planned podcast and leaving room for the unpredictable so that they land on points they themselves may not have thought of before starting the session, but add value to the listeners day. I listen to too many podcasts as is, but this has cracked my top-5 and is here to stay. Give them a listen."
-Podaholic, Apple Podcasts Review